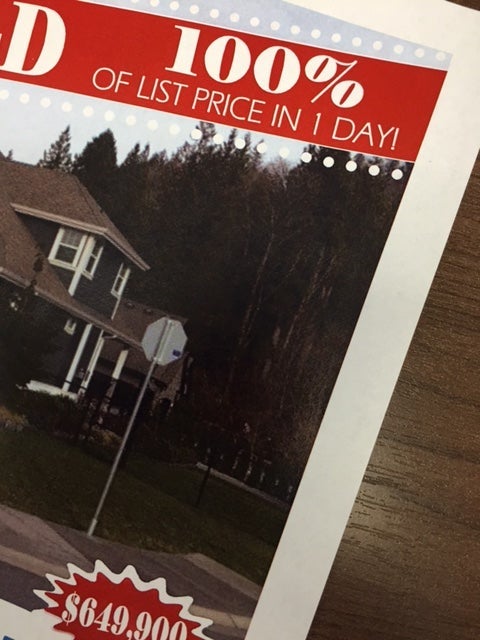 100% of sale price in 1 DAY!!!  Wow that is impressive.  I am sure that the seller of this home was excited to pay the commission to the REALTOR on this one.  Work for one Day and get all that money. This is exactly why people think REALTORS make too much money sometimes.  We don't....by the way.  But that is another topic for discussion.  
I received this because I live in the neighborhood where this sale happened.  I had a buyer for this property so I contacted the listing agent the moment it hit the MLS system and he told me that it had already sold.  It was exactly what my client was looking for.  
Now here's the deal.  The Seller probably thought he did well.  A full price offer after all.  But the question is...."Was the property exposed to the market fully in order to get the best result for him?"  Was it?  SOLD before hitting the MLS system?  To one of the REALTORs buddy's in his office.  His Buyer got the first crack at it so they made a deal.  Not cool, in my opinion.
The people who are paying the higher prices for the local homes here are not the local people.  We are working with Buyers right now on our list from Coquitlam, Burnaby, New Westminster, Vancouver, Delta, Surrey and Langley....
Before, "out of town" meant Langley and Surrey.  They are now coming from over the bridge (The Port Mann).  
These people have sold their places for more than $200,000 to $500,000 over what they thought they could sell for and are coming to buy in Chilliwack to put some cash in their jeans.  Paying $25,000 and in some cases $100,000 over the list price of the home is happening!!  BUT you will not reach those buyers in the first week of the listing.  AND you have to do intentional, smart, targeted and timely marketing out in those areas to alert those buyers of your listing.  
We have been counselling with our clients and putting a plan together with them.  We do a roll out of exposure and "hold off" the offers until a specified date and just about every time we are achieving a higher than list price for our clients.  AND our list price is aggressive.  (higher than market based on recent sales) We look to what our competition is at the moment that we list the home to choose a price...that is a different mind set.  
Call us to learn how we strategize to get you the best result based on sound principals.  We would rather brag about selling it in 2 weeks for over list price!  We are not boastful by nature but our intentions are in line with how a REALTOR should approach everything.....Choose to do not necessarily what is easy...but what is best for the client.