The British Columbia Real Estate Association just released the Real Estate Market Report for British Columbia.
  I recently listened to a podcast (Vancouver Real Estate Podcast) that featured Brendon Ogmundson who is the Chief Economist for BCREA and the gist I got from the conversation was that he is fully convinced that the market is in the middle of a shift because of outer influences that are out of our control, such as Government Intervention (which I believe always creates the opposite effect from the propoganda that they send out) Rising Interest Rates, the War in Ukraine, and the rising cost of inflation that we are currently experiencing....BUT....BUT BUT BUT....Otherwise, all indicators are...that we are in a major shortage supply STILL.  We ended 2021 with only 1/3 of the supply in all of BC that we need to simply get to a BALANCED MARKET...forget about a "Buyer's Market"...we are so far away from that right now that it could take many years to get there.  
The Solution to the so called "Pricing Problem" or "Escalating Prices" in BC has nothing to do with Foreign Investors, as they only make up .03% of the Sales in any given year.
..or TAXING everyone to make it tough to hold on to the Real Estate...as that only creates higher pricing and higher rental rates as they now need to recover costs...as an example.  
The SOLUTION is for the Government and Municipalities to band together to implement incentives and to implement measures to bring more new construction online more efficiently and cost effectively.  
We don't have a PRICE ISSUE....we have a SUPPLY ISSUE.  
All of this to say, our market is still healthy and getting more normal.  We are just not experiencing 10 to 20 people lining up to buy listings right now.  Thats ok.  Its perfectly ok.  Buyer's have a little bit more choice!  Wow imagine that!  They might even be able to write offers with conditions on them!!  WHAT!!!  Yep!  They might even be able to buy at list price or maybe slightly under instead of having to guess a price that might be the best acceptable price to a seller.  We may see some price adjustments.  That's ok.  
The price adjustments are because the latest listings that came onto the market shot too high...thats all.  Anyone that listed properly over the last couple months actually SOLD.  The last group who hit the wave have to adjust..thats all.  The market is NOT CRASHING!  Inventory is catching up.  Thats all.  Demand will kick in again and Sellers and Buyers will have a meeting of the minds and the Buyer's who thought they could beat the crap out of sellers on price unsuccessfully will eventually realize that the fact that there is choice is a luxury and will come to terms and make a move on properties...this pause will soon pass and things will begin going again.  That is my take on things.  Call me anytime to chat about the market and I would love to talk to you!!  Here is my cell number 604-701-9080.  Kelly
HERE IS THE REPORT from BCREA
BC Home Sales Trending Toward Normal Activity
Vancouver, BC – May 12, 2022.
The British Columbia Real Estate Association (BCREA) reports that a total of 8,939 residential unit sales were recorded by the Multiple Listing Service® (MLS®) in April 2022, a decrease of 34.9 per cent from a record April 2021. The average MLS® residential price in BC was $1.065 million, a 12.9 per cent increase from $943,765 recorded in April 2021. Total sales dollar volume was $9.5 billion, a 26.5 per cent decline from the same time last year.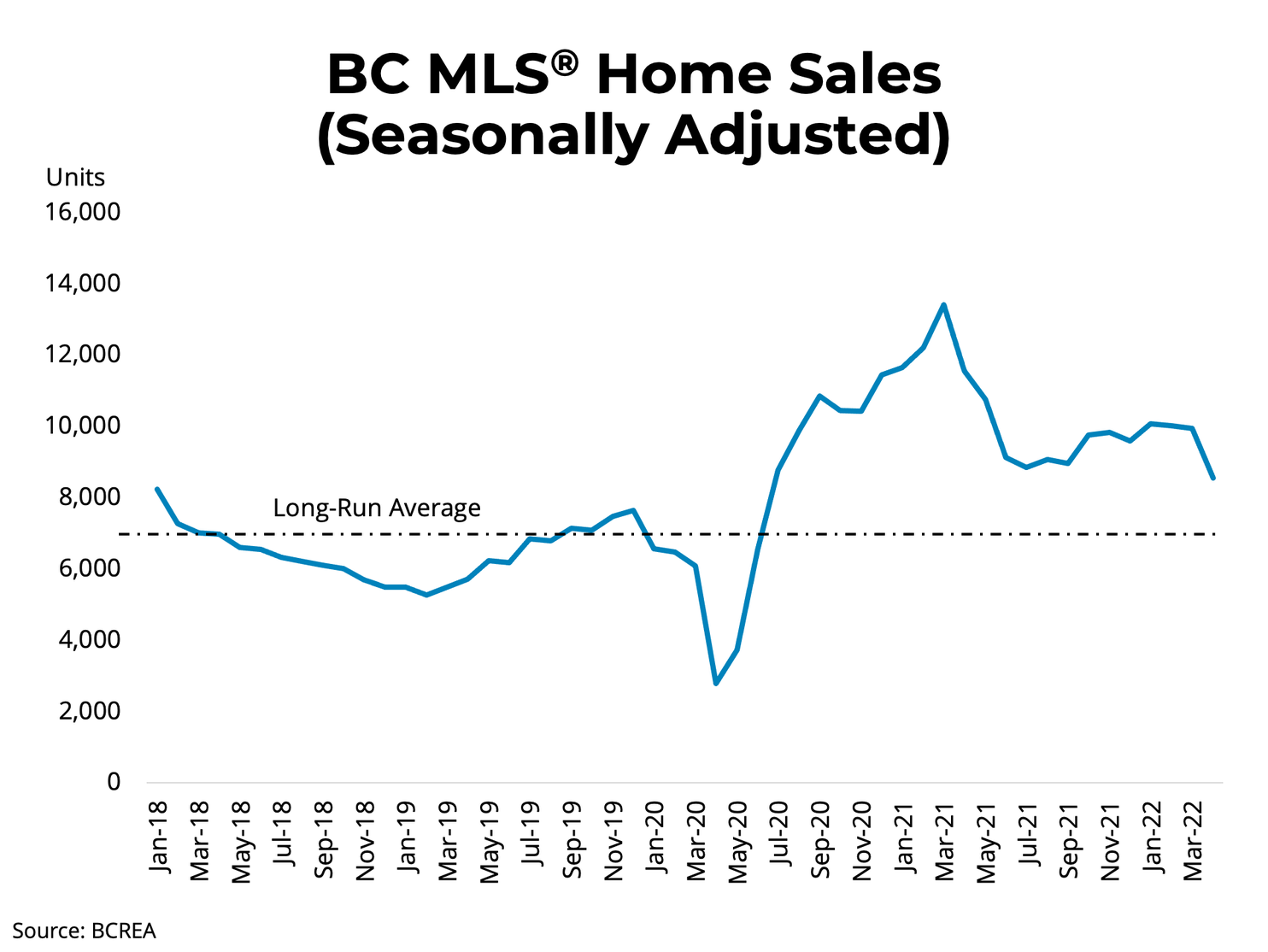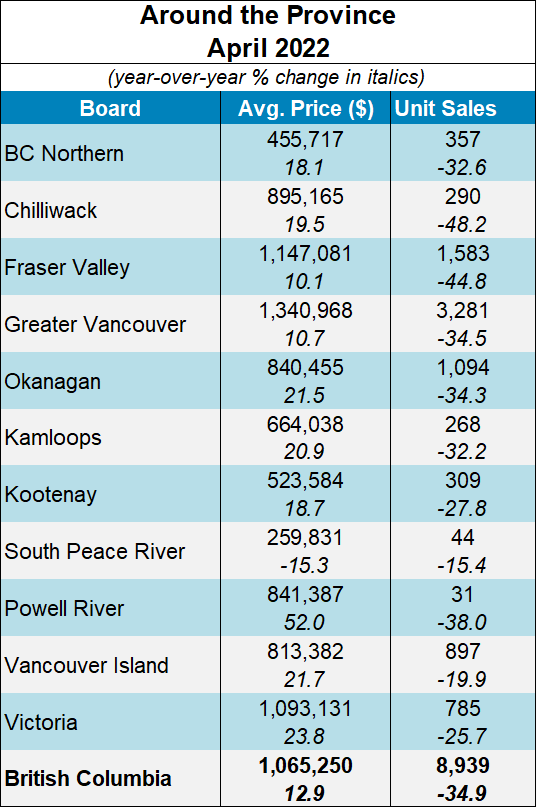 "Canadian mortgages have sharply increased, surpassing 4 per cent for the first time in decade," said BCREA Chief Economist Brendon Ogmundson. "With interest rates rising, demand across BC is now on a path to normalizing. However, given existing levels of supply, markets conditions remain tight."
Provincial active listings were 7.5 per cent lower than this time last year, though listings are starting to accumulate in some markets as demand fades. However, it will likely take a year or more for the supply of listings to return to balanced market levels.
Year-to-date, BC residential sales dollar volume was down 10.7 per cent to $38.4 billion, compared with the same period in 2021. Residential unit sales were down 24.2 per cent to 35,618 units, while the average MLS® residential price was up 17.8 per cent to $1.078 million.
Here is my take on the Market from the March Stats....