I actually sent an email this morning to CBC Media...because I am constantly aggravated by the same message being perpetuated in the MEDIA....with no imagination....no solutions....no diversion from the messaging...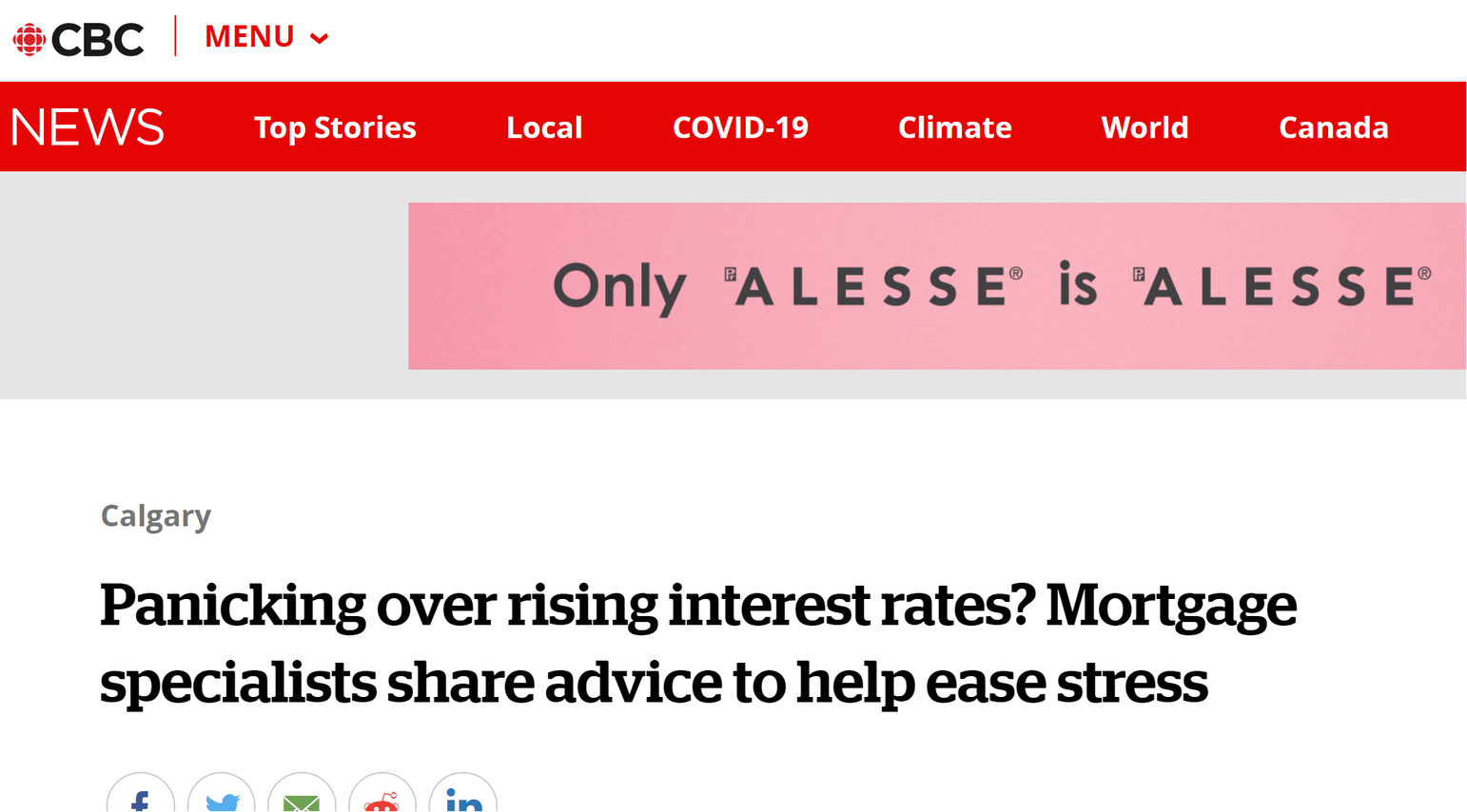 Here is what I sent...
To whom it may concern…in the MEDIA 
Can we change up the messaging? 
 I see a lot of stories about interest rates.  It gets a little mundane talking about the fear of home buyers because of rising interest rates, and then just purely perpetuating the fear reporting the obvious.  All this does is cause sellers who are not willing to reduce their prices to take their homes off of the market.  OR choose not to sell.  This puts a squeeze on inventory, and then the market will rise again.  We were approaching a balanced market making it actually possible for Buyers to buy with less competition and giving them a chance to make a great decision, and then sellers could sell and make a life change without the stress of no activity and/or having to finance higher than they were hoping in order to make that move or "life change".  Now everyone is frozen in place.  Its like a pause button has been pushed.   How about – "With interest rates rising its important for Buyers to get their rates locked in NOW" OR  "Savvy Buyers are buying without competition at a discount which more than makes up for the rise in Interest Rates" – (you can probably do better on that title.  Lol) OR "Interest Rates are a non factor when buying at extreme discounts"   The solution for the interest rates is already here.  The prices have moved down far enough to take care of the difference in interest rates and in some cases Buyer's are actually going to pay less per month than they would have 4 months ago at the lowest interest rates in history. Those rates were ridiculous.  BUT this is not part of any story.   Is it possible that you can do a spin on this to show the
Opportunity for BUYERS
instead of feeding the fear?  Everyone is paralyzed when what they should be actually doing is making a move now when there is no competition.  The prices have more than compensated for the interest rates.  In Chilliwack there are Townhomes that are in the $500K range now…that was unheard of 4 months ago and we don't have 20 people competing for them!  This is an opportunity.  The higher end townhomes that were approaching $800K are now hovering in the $650k to $700k range now.  This is substantial.  I would trade $150k for $200/m any day of the week if that was the difference.  But that's not the case…People are qualified based on the monthly payment amount and that is it.  They aren't going to pay more per month in a lot of cases.  They will just qualify for a lower purchase price, that's all.  Well, the prices are lower now…So let's get on with it!   What about the Family Home with a suite for people who sell their townhomes for example?   Homes that have rental suites bringing anywhere from $1200 to $1600 per month that can still fit the family in great neighborhoods here in Chilliwack, were over $1,250,000,  4 months ago, and now we are hovering between $999,000 to $1,100,000.  That $150,000 difference is an Opportunity!!  When rates dip in the Spring and the market injects again, then these people will enjoy the equity increase.  Their financing qualification will still get them into these homes and they can leverage by using a 30 year amortization in a lot of cases, to make it affordable….So we need to provide solutions and provide hope for people and stop perpetuating the fear and paralyzing people.   Can you do some stories on that?  I get Google Alerts all day long, with the same message all day long,  - "Market is taking a blow because of interest rates"  "Buyers are scared to buy with these interest rates increasing"   "The BOC could be raising interest rates again…." – I have yet to see a story that talks about solutions.  I don't have a mega phone big enough to combat this messaging….   Rant over….thanks for reading….have a great day!   
Kelly Johnston
P: 604-701-9080
E:

smile@happyhomesbc.ca
Website: www.HomesinChilliwack.com
Instagram:  @realestate.with.kelly
Helping people make great real estate decisions since 1997
Are you a REAL ESTATE professional looking to Level UP?  www.4XFormula.com